Life Education Center Capital Campaign
We have raised $1,700,000.00 of our goal.
The Harry and Renee Haag Life Education Center Capital Campaign
Click here to download a brochure for The Harry and Renee Haag Life Education Center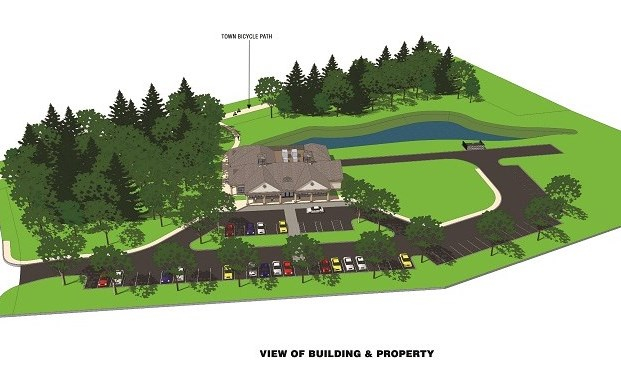 Together, we will build the LIFE EDUCATION CENTER...an innovative and multi-purpose facility that will provide the foundation for our unique Whole-Person (3 Pillar) approach to programs and supports.
The Need:
The need for Favarh services continue to grow. Each year, more and more families choose Favarh.
The Solution:
The LIFE EDUCATION CENTER (LEC) is our answer to this growing need. The LEC will enhance our unique Whole-Person (3 Pillar) approach to services...Growing Independence through: A Productive Day, A Place of My Own, and A Healthy Lifestyle.
A Productive Day
Transitioning high school students up to age 21 will utilize the LEC's computer labs and classrooms for learning job-readiness skills, functional academics, social skills, and problem resolution.  The curriculum will also focus on resume preparation, interview and job seeking skills in conjunction with internship and paid work placements.  Through a unique partnership with Tunxis Community College, qualified students have the opportunity to take or audit classes, participate in on-campus activities, and connect with a student mentor.  The state-of-the-art Teaching Kitchen and the Healthy Choices Cafe will provide work experience for student interns who will be able to earn a Food Safety Training Certificate.  All of this and more leads to successful post-graduation placements in individual and group supported employment.
A Place of My Own
The Teaching Kitchen will provide Culinary Programs for meal planning, preparation, and cooking skills needed for living on your own.  The Teaching Kitchen will allow us to greatly expand our recently implemented garden-to-table nutrition program.  The kitchen will also provide a commissary service where delicious meals can be purchased by clients looking for the convenience of nutritious, calorie-limited, and prepared meals.
There will also be space to teach Independent Living Skills including housekeeping, money management, laundry, safety, public transportation, and healthy relationships in preparation for a successful first apartment experience.
A Healthy Lifestyle
Increased Physical Activity:  All of our Recreation & Wellness programs will be based out of the LEC.  Monthly calendars will include diverse opportunities each week to participate in a variety of physically active programs including Unified Fitness, Softball, Hiking, Basketball, Flag Football, Yoga-Dance, Floor Hockey, Soccer, Dances, Camping, Walking, and more.
Improved Nutrition:  The Teaching Kitchen and the Healthy Choices Cafe will allow us to promote improved nutrition throughout Favarh and the community by hosting public cooking classes, cooking demonstrations, nutrition workshops, along with providing heaalthy meals and food items for purchase.
Enhanced Emotional Well-Being:  The Life Education Center's classrooms and activity space will be used to teach and practice well-being skills including: increasing positive emotions, identifying strengths, increasing positive relationships, creating more purpose and meaning in life, enhancing resilience, gaining a sense of control, setting goals, and gaining self-confidence through advocacy and other group empowerment activities.
Join Our Campaign
A generous donor was so enthusiastic about our accomplishments and our future plans for the Life Education Center that he and his wife provided a 1 million matching grant for this 2 million dollar project in memory of his sister and her husband.
His only condition...we must raise the entire matching million dollars to acquire this generous gift and forge the dreams that will emerge from the Harry and Renee Haag Life Education Center.
Please consider making a donation today...no amount is too little.
Feel free to contact the Development Department with any questions, comments or concerns. 860.693.6662 Ext. 116